What's new?
We proudly present Dr. Kaiser's latest book.....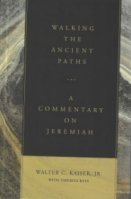 Walking The Ancient PathsL A commentary on Jeremiah. With TIberius Rata, Bellingham, WA, Lexham Press, 2019
"Ask For the Ancient Paths, Ask where the Good way is, & Walk in it" Jeremiah 6:16 This book draws on a lifetime of study to illuminate the book of Jeremiah for a contemporary audience. Following an introduction that surveys the historical and literary background of Jeremiah, along with its theological emphases, Kaiser examines each verse of the text, explaining its meaning and significance. Each section is followed by devotional and application insights that guide the reader in applying the text to their everyday lives.

The Lives and Ministries of Elijah and Elisha:demonstrating the wonderful power of the Word of God.
Clarksville, MD, Lederer Books 2019.

Elijah and Elisha are among the earliest and most influential prophets of Israel. They were both used to call Israel and Judah back to the Lord. Yet, their impact extended far beyond the boundaries of Israel in both space and time, impacting other nations and later times. Their stories form the framework for 1 and 2 Kings. Additionally, their accounts also inform and shape later Jewish biblical and religious texts. Quite significantly, the Elijah-Elisha historical pattern plays an important role in the structure and substance of the texts of the Gospels. Important poeple are pictured against the background of these two key figures in Israel's history. Not only that, but the Elijah-Elisha nararative serves as part of the structure of key sections of the Gospels, themselves. Welcome to the adventure of exploring thse key figures-Elijah and Elishas-with Dr. Waltcer C. Kaiser. Enjoy!

The Majesty of GOD in the Midst of Innocent Suffering:the message of Job. Christian Focus,2019
The book of Job speaks to some of the basic issues of our human experience. Feelings of grief, misery,sorrow and distress are played out against the backdrop of a man resolute in his claim of his innocence despite the accusations brought by three of his alleged friends of being an unrepentant sinner. But Jobs sufferings serve to demonstrate more truth than Job and his friends greapsed. Kaiser guides us through this often-neglected book to find that pure worship in suffering is not only possible, but that such times of suffereing can deepen our insight into the character of God.